Products
Click the product name to display details:
Pontoon Boats
Yamaha G3
High-end, top quality, luxury or family value. Fully rigged with 4 stroke, clean, fuel efficient, Yamaha engine. Twin or triple hull design, completely foam filled, solid welded and sealed for life, for absolute stability and personal safety.
Deep V-Series
Yamaha G3 Deluxe family recreation: water skiing, tubing, fishing or just plain cruising and enjoying the summers waterways. Fully rigged with 4- stroke Yamaha engines. Due to it's light weight, low fuel consumption and less maintenance, this boat  is an ideal investment when compared to a fiberglass boat which is much heavier.  Fiberglass boats with inboard/outboard I.O. engines require extensive and expensive yearly maintenance.
Aluminum boat and outboard advantages vs fiberglass boats:
Burn 1/2 the fuel of inboard / outboards
Have 22% more usable space
draw 1/2 water (for shallow depth) use
cost 10 - 20% less than an I. O. to winterize
easier to: operate, maneuver, steer, tow water toys, water skiing etc.
Eagle Modified V-Series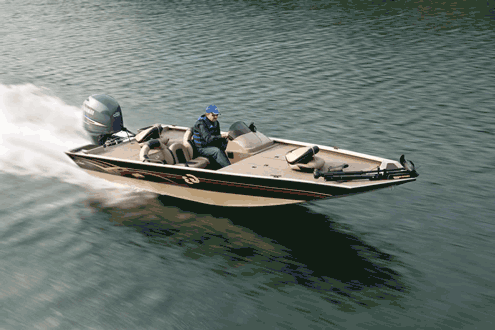 Yamaha G3 Engineered and built as high performance, high quality, solid welded, fast planing, wide bodied, comfortable, tournament pro-angler sportboat. Fully rigged with a Yamaha 4-stroke reliable outboard, to get you where the fish are, faster than the competition.
Guide Series Boats
Yamaha G3 Built from 12' to 18' lengths, strong, reliable, stable, all-purpose general use. Great hunting, fishing, camping, outfitters, rental fleet, weekend angler or as a second run-about for the cottage. Safe for children (with supervision).
Available with or without Yamaha engine.
Marine Outboard Engines (Jet Drives)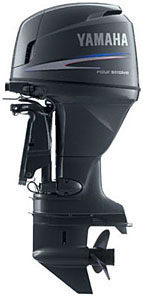 "Reliability Starts Here". We don't have to sell Yamaha outboard engines, they sell themselves. Whether they're used in fresh or salt water, river or rapids, that's the best investment you have ever made.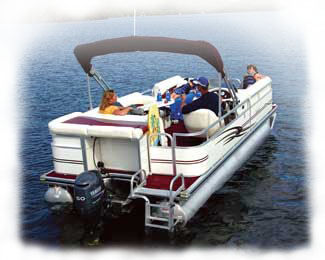 The most complete 4-stroke line-up, propeller or jet drive, displacement and horsepower, used for just about any boat imaginable, pleasure, race, fish, rescue, enforcement, work, sail, canoe or dingy.
Starting from the little F2.5 to the mighty F350, largest horsepower ever made, Yamaha covers all sizes and ranges. Endurance, reliability unsurpassed, translates to customer satisfaction and lasting loyalty.
WaveRunners (PWC)
A summer of family enjoyment and fun, cruising, skiing or towing water toys. Yamaha Waverunners are built to last, built to perform, built to satisfy the most discriminating critics.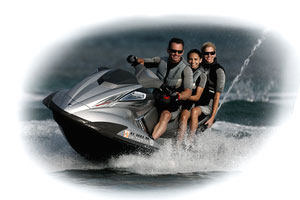 The avid speed demanding racer will be thrilled with the acceleration and performance derived from the supercharged inter-cooled, 4-cycle, SHO engine, largest displacement engine ever created. Family 3-up pleasure, cruising, to a most value packed economical, entry level watercraft. We will ensure that your fun will be a lasting experience, guaranteed.
Snowmobiles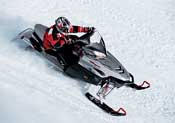 Yamaha 4-stroke snowmobiles are built for the 21st century. Low emission, the most fuel efficient machines o the market today. It all adds up to low operating costs.
"Zero" oil dependent, not a drop of injector oil needed. Compared to the competition 2-cycle technology.
Power delivery is strong, constant, predictably even through all RPM ranges, from clutch engagement to peak WOT (wide open throttle).
From an environmental perspective, Yamaha's snowmobile line-up provides the cleanest operating engines in the industry.
Performance, handling, comfort and unmatched quality is provided with every Yamaha snowmobile sold.
You only turn a key and go! No more pulling and pulling to try and start at -30.
Complementing our snowmobile line-up, Yamaha has the most comprehensive accessory and matching apparel selection to suit every riding style.
ATV - All Terrain Vehicles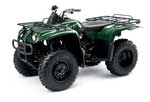 The toughest, most durable, trusted ATV on the market. Built to with-stand the hardest conditions.
Start from the top of the ATV line-up, the rugged Grizzly, 700 FI EPS, 4 wheel drive, fuel injected, power steering, fully automatic, on-command drive mode selection, positive gated shifter (L-H-N-R-P), electric start, 4 wheel differential lock, with override, independent rear suspension, trailer tow hitch. You name the feature, it has it.
Or a full line-up of Sports ATVs, such as the ultimate Raptor 700R or the race ready, YFZ 450 straight out of the crate.
All the way to kid's class starter ATVs, such as the Raptor 90, electric start, fully automatic, adjustable throttle limiter, to allow adult supervisor to match rider skill level.
Yamaha has it all. Designed to perform, reliable, long "user friendly" service life. Best buy for the money spent.
SSV Viking (Side by Side)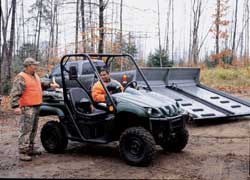 The ultimate off-road work horse, the competition tried to imitate, but never duplicated, there is only one Yamaha Viking.
The 700Fi Automatic (4X4), fuel injected, liquid cooled engine, pumps out plenty of horsepower. Four wheel disc brakes, provide serious stopping power. Industry exclusive, on command shift, lets you switch with a touch of a button, between 2WD and 4WD to four wheel differential lock. Digital, full function, instrument panel, gives you all of the information you need to know.
Four wheel, long travel, independent suspension, will let you go where no roads exist, tested extensively for the real world.
Full compliment of Yamaha accessories:
finest quality Warn Winches,
snow plows,
track systems,
windshields,
heaters,
cargo or gun racks,
an assortment of extra options such as a solid state stereo system
All designed for durability and to be utilized by a sportsman in a harsh Rhino environment.
So there you have it, the best from Yamaha that money can buy!
Generators
Yamaha's most trusted name for 35 years in development and engineering.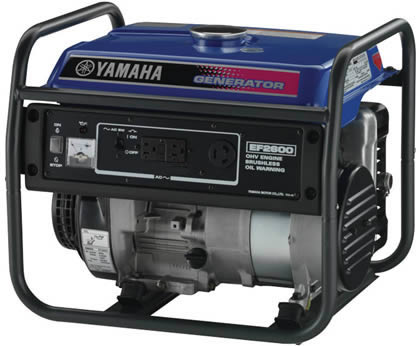 Reliable power source for construction, recreation, and home back-up during power outages.
With a Generator, size matters!
Before purchasing, it is important to discuss your intended use with a qualified dealership, electrically knowledgeable and trained to offer the proper unit.
Also highly recommended, to allow an Ontario Licensed Electrician provide you with the proper site installation, for your safety, especially in the case of a large KVA output rating, intended for home back-up power supply.
Yamaha builds a complete line-up of power generators, both inverter and conventional modes.
Whisper quiet, 4-cycle, enviro-friendly, clean power, brushless, fuel efficient.
We stock a moderate range of the most commonly used units, frequently requested.
Pumps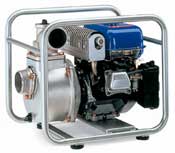 Water pumps deliver the power you need to move sufficient volume of water with pressure as expected, with a pumps technical capacity.
Usage varies, as a water back-up, fish farms, irrigation, gardening, recreations and other applications where water is needed to be pumped or stored.
STIHL - Chainsaws, Weed Trimmers, Leaf Blowers
Sales, service and repair, parts and accessories for STHIL equipment:

Small and intermediate sized chainsaws are in stock: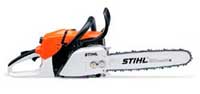 Weed Trimmers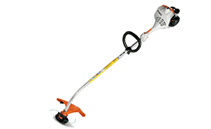 Leaf Blowers: offer maximum performance, low weight, environmental features and long service life: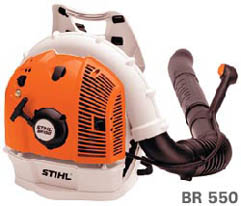 Logsplitter Split-Fire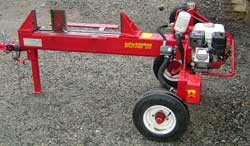 Model S255 - in stock for sale and also available for rent
Showroom: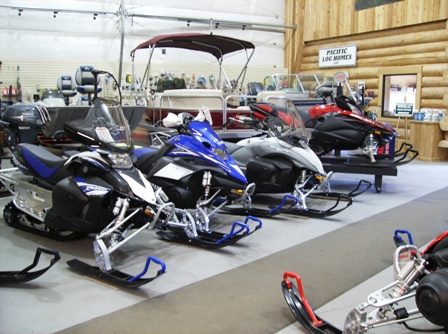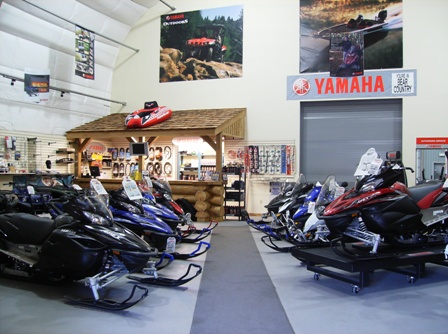 Page Last Updated: November 12, 2016